Japan Operations
Credit Card Business
Efforts to Increase Cardholders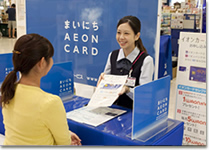 Using our nationwide sales network, we are actively working to increase cardholder numbers and develop new co-branded cards with affiliated merchants. As of March 31, 2013, our cardholders numbered 31.85 million, led by AEON Card. Also, focusing on the issuance of co-branded cards in cooperation with industry-leading companies, we are working to aggressively broaden our cardholder base, centering our efforts on male customers and a younger age-group.
Efforts to Increase Cardholders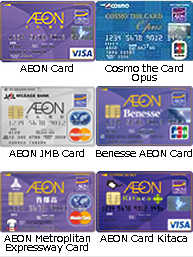 We provide cardholders with numerous incentives, ranging from discounts to an enhanced point system. We broke new ground by extending our no annual fee policy to all the cards that we issue, including the AEON Gold Card, the first gold card in Japan without an annual fee, and our electric toll collection (ETC) cards. As well as enhancing the Tokimeki Point Club program, which offers cardholders bonus points when they shop, we have gone to great lengths to raise the number of affiliated merchants. These include utilities companies and,- Japan Broadcasting Corporation (NHK),both of which register cardholder details for the settlement of monthly bills by credit card.
Japan Operations
Banking business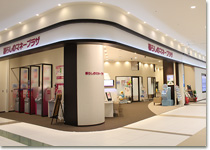 Moreover, in addition to those inside the AEON shopping malls all over the country, AEON bank's ATMs are installed in MINISTOPs, stations, airports, etc., and compatible for various cards issued by partnered financial institutions. Transaction fees are waived for AEON cash card or AEON Card Select and the AEON ATMs are available also for recharging e-money "WAON" at any time 365 days.
Furthermore, the bank provides consultations to customers for their preparation for future through different kinds of loans such as mortgage loans, insurance products and financial products such as investment funds. Besides, the bank also provides AEON bank products and services such as fix deposit accounts and mortgage loan pre-screening through the internet. For corporate customers, taking advantage of the know-how of developed "close adherence to the local community", the bank offers solutions through direct contacts with every customer.
Japan Operations
Fee business
We are developing insurance servicer and other credit card-related businesses by maximizing synergies with our credit card businesses.
E-Money Business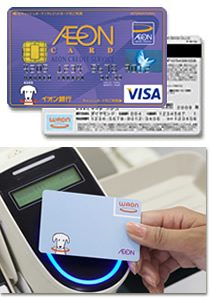 AEON CREDIT SERVICE made a full-scale entry into the e-money business in April 2007 with the issuance of its original e-money, WAON. Since then, the Company has actively expanded the cardholder base for WAON-compatible credit cards, including the AEON JMB CARD. At the same time, we have entered into business alliances with third parties to spread the use of WAON and gone to great lengths to raise the number of affiliated merchants who accept WAON. Through these activities, we are working to develop WAON into a regional currency. As of March 31, 2013, the number of WAON-affiliated merchants totaled 160,000 nationwide, with the total number of WAON-compatible credit cards issued reaching 31.8 million. As a result, the total value of e-money transactions using WAON-compatible credit cards, the AEON SUICA CARD and the AEON iD CREDIT CARD payment function for mobile phones has significantly grown, reaching 1,311.3billion yen.
Bank Agency Business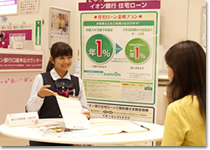 In October 2007, AEON CREDIT SERVICE incorporated the procedure for opening AEON BANK ATM CARD accounts into the existing AEON CARD subscription process. Promoting such campaigns nationwide and utilizing its marketing networks and expertise in offering subscriptions, the Company is efficiently expanding its accountholder base. In February 2009, we commenced the issuance of the AEON CARD SELECT, which provides credit-card, ATM-card and e-money functions in one card. Through this and other initiatives, we are continuously improving both customer convenience and the quality of our services. In credit guarantee operations, the Company is expanding the scope of services by commencing unsecured loan guarantees and providing credit guarantees for residential renovation loans.
Insurance agency business: AEON INSURANCE SERVICE CO., LTD.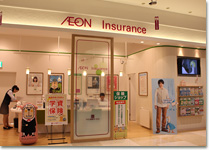 Regarding to the Insurance Agency Business, the insurance agency business started in 1990 and all insurance agency companies under the group were unified into AEON INSURANCE SERVICE CO., LTD. in 2008. AEON Insurance Shops are developed centering on AEON shopping centers and catering for different customers' niche, providing proposals in a fair and neutral position. Besides, the company operates AEON Insurance Market online. The provision of consolidated quotation on car and bike, request for life and non-life insurance information and contract become possible.
Mortgage bank business: AEON HOUSING LOAN SERVICE., LTD.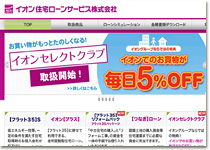 As the lending window for mortgage loan, AEON Housing Loan Service, which joined the AEON Group in January 2012, has strengthened its sales capacity by expanding its business networks through the branches and outlets of AEON Credit Service all over the country. Moreover, through cooperation with retail, the Company has strengthened different measures for promoting convenience to customers. For those customers who have contracted mortgage loans, the Company provides customers with "AEON Select Club" privileges including 5% discount on daily shopping in AEON. Furthermore, the Company is the only mortgage bank which has acquired bank agency license. In March 2013, the Company starts to act as agent for mortgage loans provided by AEON Bank. In addition to the regular "Flat 35" long term fixed interest plan, the Company also provides "Floated Interest Plan" for meeting customers' niche through the sales of mortgage loan.
Short-term small-amount insurance business: AEON S.S. Insurance CO., LTD.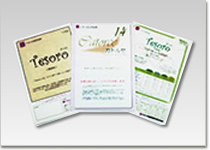 Different from Life Insurance Company and General Insurance Company, [Short-term small-amount insurance business] is set up as a new type of insurance business which is called Mini Insurance Company. By effectively utilizing the know-how in both life and general insurance business, it aims at providing easy understanding and useful products which makes customers satisfied. The company will develop and provide low-priced valuable private insurance products in future.
Servicer Business: ACS CREDIT MANAGEMENT CO., LTD.
By utilizing the know-how in collecting personal loan receivables, the Company involves in the purchase of credit receivables, mortgage loan receivables, etc, and provides collection services and collection agency services for different industries for collecting public utility fees, mobile phone fees, and mail-order fees. Meanwhile, the Company has set up operations in different areas all over Japan as a measure to strengthen the collection structure and expand the businesses regarding to purchase of receivables and collection service.